Upcoming Events
The 2023 Enkutatash Picnic is here! 
Sep 17 @12  PM
Lunch, music, snacks, games, and much more
join us at  Sakura Park – 500 riverside Dr
New York, NY 10027
See you there!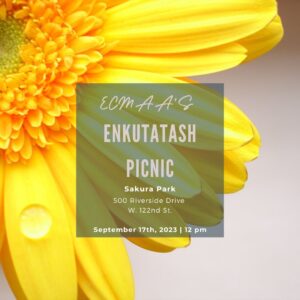 3rd Round Ping Pong Tournament Sep 23, 2023 and More…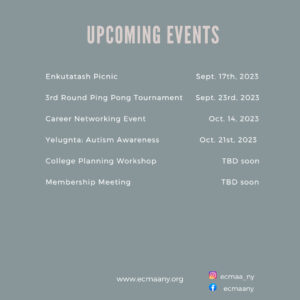 Yelugnta and Gemena (ይሉኝታ እና ገመና)
Date: July 29, 2023
Time: 12pm to 4:00 pm
Location: Pier 57,25 11th Avenue, NY, NY
Signup by clicking the flyer or use the link below
Description: As noted in the intro, Yelugnta is an event to facilitate conversation around taboo topics in our community, with a focus on mental wellness. Professional wellness practitioners will be facilitating the conversation and people are encouraged to participate to the extent they feel comfortable with, just being present is ok! We encourage everyone to attend as this is one of ECMAA's most impactful events, and one that was highly appreciated last year.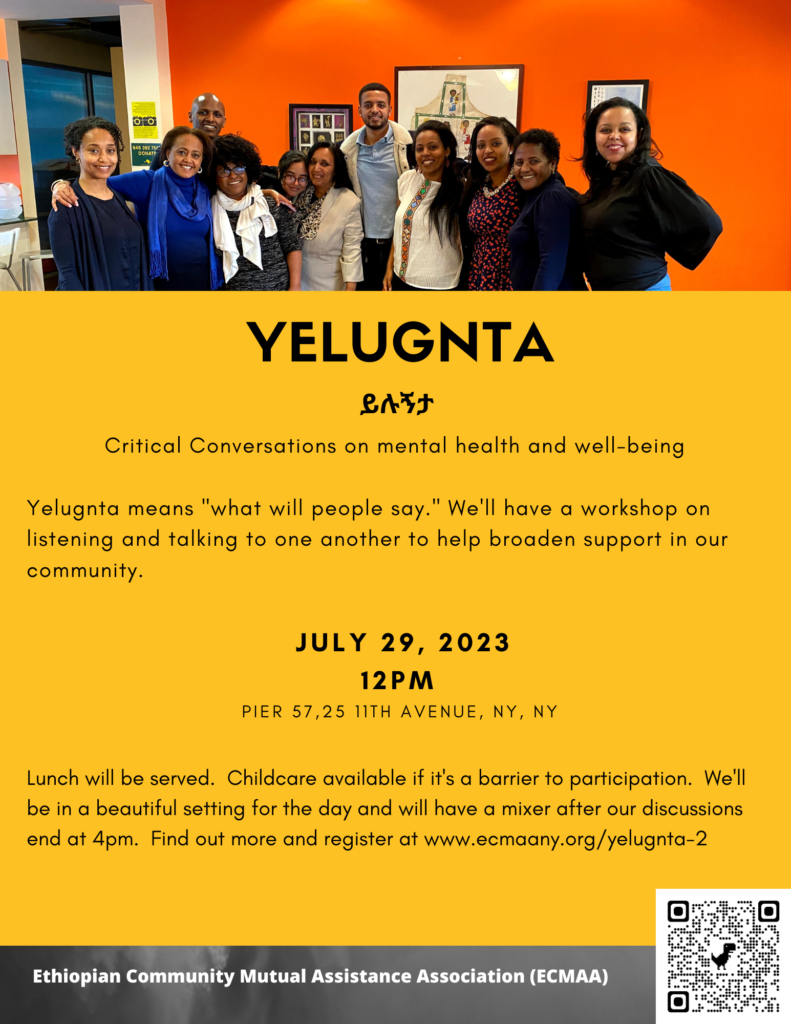 Mesfen Foundation
The Mesfen Foundation, an organization serving Ethiopian and Eritrean youth in NJ with a focus on addressing the mental health and wellness of youth in these communities, has planned several events for spring and summer. See events above and make sure to follow the Mesfen Foundation on social media @mesfen_foundation.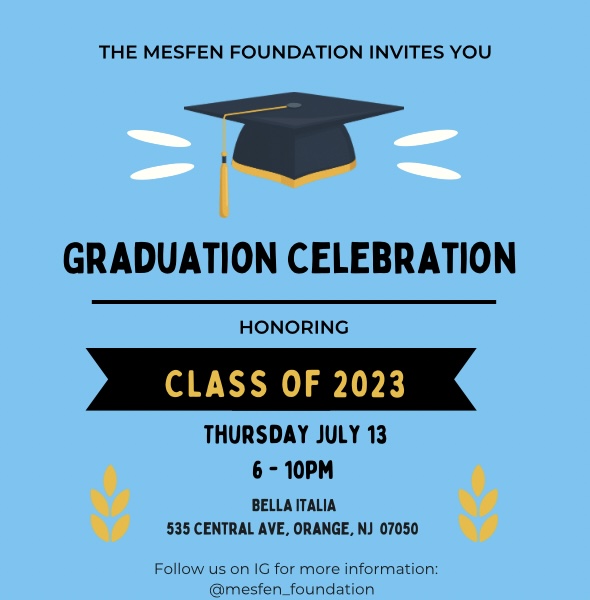 Save the date – July 1, 2023 ECMAA Soccer
Location: 101 Street and Riverside Park in Manhattan.
Join us for soccer for the day to meet new friends, greet Spring and play the beautiful game. The game is in Riverside park with a playground, running track and basketball court nearby as well.
Join us at 3 pm at 101 Street and Riverside Park in Manhattan. Use the barcode below to register to ECMAA football group.

ECMAA'S 2nd Annual Summer Kickoff
Date: Saturday, June 10
Time: 11 am
Location: Sakura Park, 122nd Street (between Riverside Drive and Claremont Avenue)
Join us at ECMAA's second Annual Summer Kickoff at Sakura park. Bring your family and friends as well as picnic blankets,soccer balls, hula hoops and frisbees. We'll have tug of war, sack races, egg, spoon races and more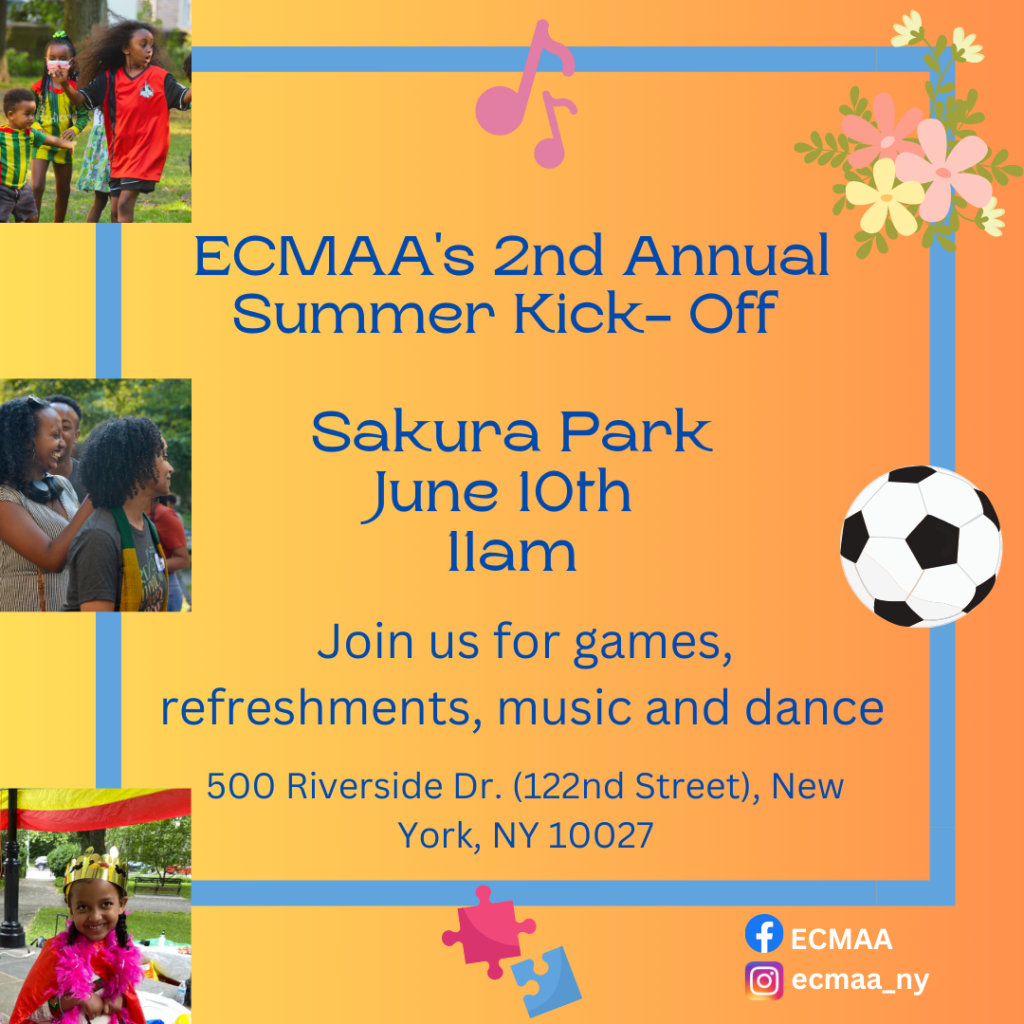 NYC Tewahedo (Orthodox Tewahdo Church Study course)
Location: Virtual
"NYC Tewahedo is a recently established group for the purpose of learning different facets of the Orthodox Tewahedo faith. Through a series of lessons, the class will be covering the church's history, doctrine, liturgy, fasts and other topics. Classes are designed for the beginner learner and will be held in English and virtually every other Sunday. Next lesson will be Sunday, March 26 from 6-7pm EST via Zoom. If interested in attending, please fill out this feedback survey to inform our subsequent lessons and add you to our email distribution list."
FANOS |ፋ ኖ ስ AMHARIC CLASSES
Location:Virtual
Date: Begins April 1st
Private & Group Classes Begin April 1st, See below for discount."Enroll your children or young adults to Amharic classes held online with MY FANOS, an Ethiopian language school providing private and group classes online via zoom.
USE CODE: FAMILY25 – Before March 31st for 25% off your purchase
USE CODE: SIBLING15 – For a discount if you are registering more than one child."
ECMAA Table Tennis Tournament
Date: Saturday, June 3
Time: 11 am
Location: Roosevelt Island, Outdoor Ping Pong Table, Cornell Tech Campus, 11 E Loop Rd (Roosevelt Island, NY 10044)
Suggested donation: $20
Please join us for a light-hearted table-tennis tournament where we will also have refreshments and games for those who would prefer to spectate. There will be a trophy and medals for the winners! We will be playing at Roosevelt Island. Use the barcode on the flyer or click the flyer below to register.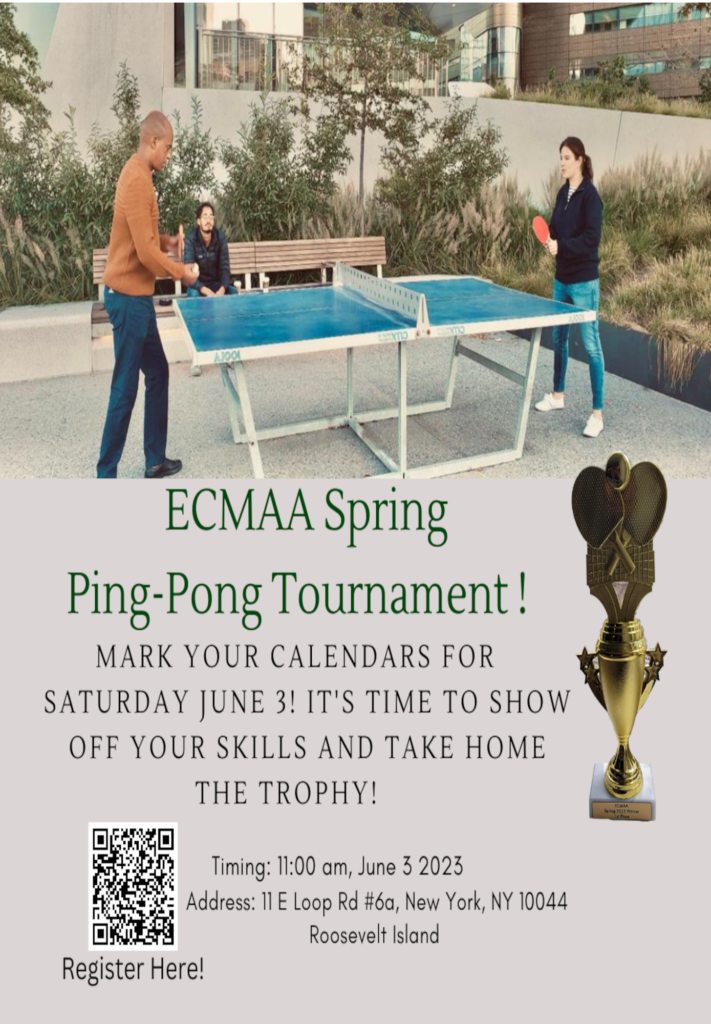 ENETEWAWEK SINGLES MIXER 25+
Date: Saturday June 24th
ECMAA is planning to host an Enetewawek Singles Mixer on June 24th for community members to connect, socialize and build relationships. This event has been highly demanded from the community after we held an Enetewawek mixer in February at Tsion Cafe that we heard positive feedback from. Keep an eye out for further event/registration details that will be shared through our email and social media channels.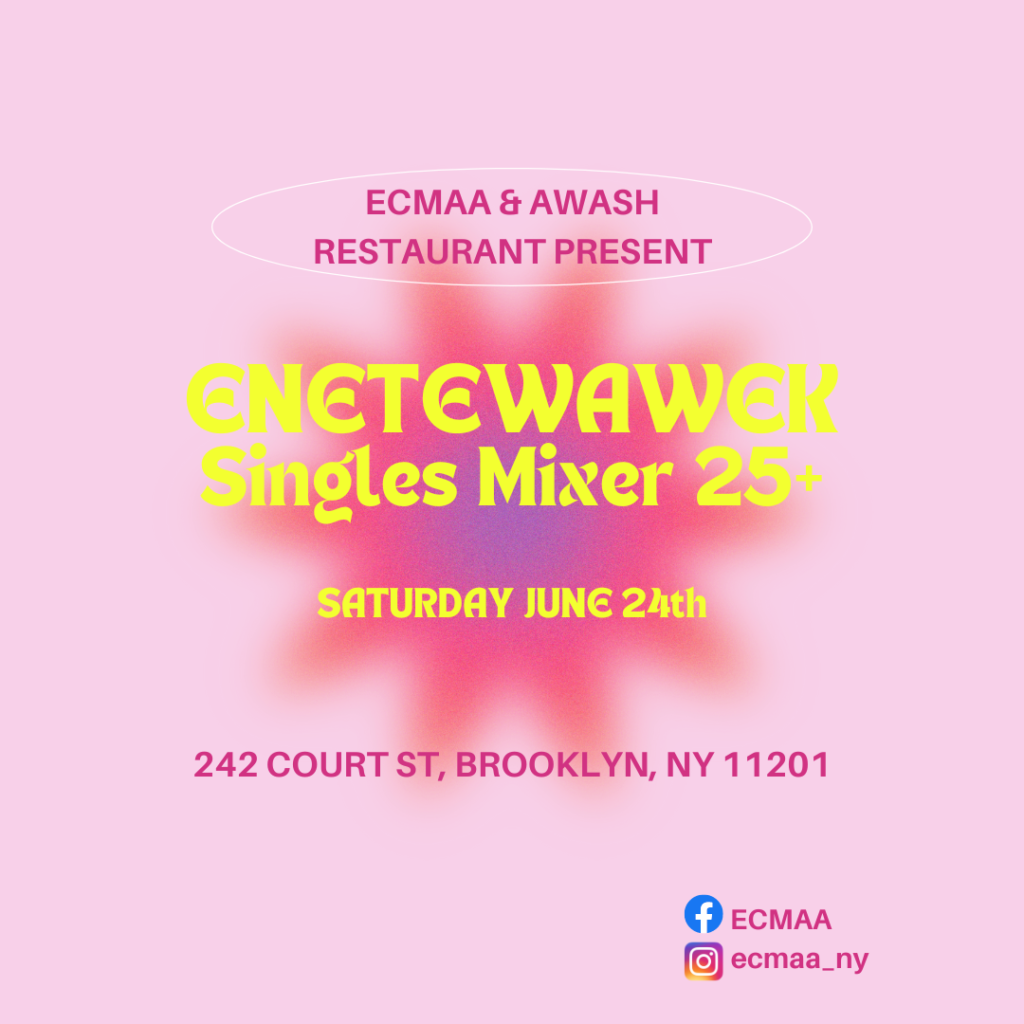 Register at: https://forms.gle/tGJbCDu85ShDWDBR7